Hainan Island Day 1
CoffeeTravels
— By
Nicholas
on January 2, 2009 at 1:00 AM
Voila, happy new year everyone! How's 2009 been for ya so far? =D
As you all might know, I was in Hainan Island from the 20th till 24th of December last year, travelling of course. =D My family and I signed up for this tour package with Globalite two months before December. To be honest, I almost ended up going to Bali! Haha, but thank God Hainan Island was a blast and I'm thankful that we ended up picking Hainan Island instead.
We were told to gather at LCCT at the wee hours in the morning, well 4am in the morning to be exact, since we are taking AirAsia. My brothers and I were too excited to sleep before that and gotten ourselves ready by 3am. Our beloved uncle gave us a ride to LCCT and bid us farewell after that.
After checking in our bags and some name checkings by our local tour guide, Kent, we were handed our boarding passes. We had a minor breakfast at Mcdonalds and off we ventured into the departure gates.
Perhaps due to fatigue, I didn't really take any pictures here till we reached Hainan at least. We boarded the plane at 7am and the flight took approximately 3hrs and 20mins. We took the opportunity to take a brief nap in the plane.
HOT CHIQ AIR STEWARDESS ALERT!!
We landed safely at Haikou Meilan Airport, 海口美兰国际机场 (Hǎikǒu Měilán Guójì Jīchǎng), the international airport here in Hainan Island. The immediate difference I noticed once exiting the plane was, everything was written in chinese. Haha, speaking of a jakun who just got out of the country -.-"
The customs officers, security guards, cleaners were all chinese of course. A sight that we would never be able to see back in Malaysia. The weather, though sunny, it was very windy! The temperature could be around 24°C.
We were immediately greeted by our Hainan tour guide, Lewis who is a local and we, along with the other tour mates, were asked to board a tour bus waiting for us outside of the airport.
We went for a brief lunch before starting our journey. Boy oh boy, I have gotta admit, I wasn't used to the food at first, and I was starting to freak out that the rest of the days would be the same, but thank God again I was able to adapt within minutes.
We didn't stay at Haikou for long, as we immediately began journey south towards XingLong. Of which we would proceed towards SanYa next. We only began touring Haikou at the 4th day of our trip.
So, our first destination along the way was Hainan Island's tropical bird park, 海南热带飞禽世界 (Hainan ReDai FeiQin ShiJie).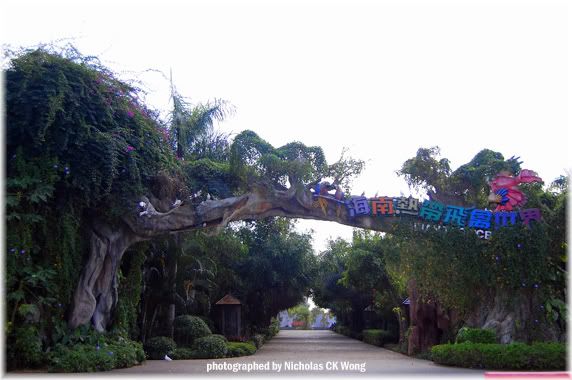 The entrance to the bird park.
Pigeons wander freely in the bird park, but they still keep a distance from any human contact, so trying to approach them was hard.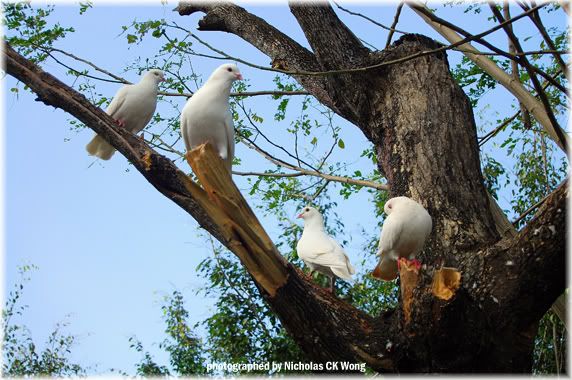 Pigeons taking a rest atop the tree.
Of course they have other types of birds around here as well, which include chickens. Haha! Yeah, roosters and hens were a common sight, ducks and gooses as well.
There's also this bird who talks. I forgot whats it called, but it was fun trying to prompt it to talk. It was creepy too T_T since I was busy taking photographs, its only normal to get left behind. So when I was the last one looking at one of these birds, I kept saying 'bye bye!' to make it talk, and it didn't!
Just when I walked away, I heard "bye bye!" from behind. WAHLAO EH CREEPY! Haha!
We were then brought into this greenhouse-liked thing, love birds were flying around in there! We were given seeds in each of our palm, and the next thing you know those birds will all start flocking to your palm to feed on the seeds.
I think I sensed a bit of hostility from the photographers working there, since I was technically taking their 'ricebowls', since in China everything is used to earn a living. Oh well, can't blame me, I'm just a tourist XD.
Then we were taken past this stretch of vineyard thing. It was all constructed using tree branches.
We arrived at the Ostrich Arena next.

Where ostriches battle to their death roam freely.
Well, turns out it was an ostrich feeding session.
Perhaps due to time constraint, we didn't get to stay long. Soon we were walking back to the exit.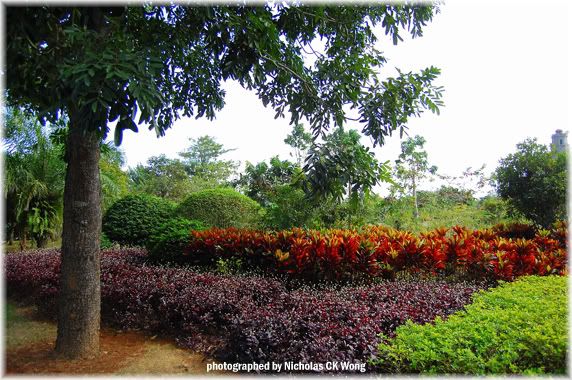 The beautiful flora and fauna around the park.
After boarding the bus, perhaps most of us were still bugged by fatigue due to the early flight. Half the bus went to sleep immediately the bus began moving.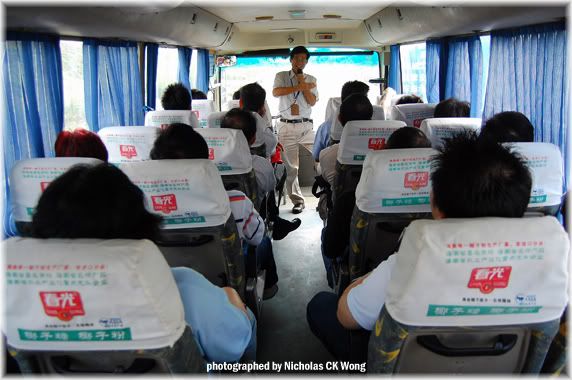 Lewis, our awesome Hainanese tour guide!
Our next destination was to visit the Boao Forum. Never heard of it? Here's a little something from Wikipedia.
Boao Forum for Asia (Chinese: 博鳌亚洲论坛; pinyin: Bóáo Yàzhōu Lùntán), abbreviated as BFA, is a non-governmental, not-for-profit international organization modelled after the World Economic Forum in Davos, Switzerland.
The founding of BFA was driven by the People's Republic of China and founded by 26 Australasian states on 27 February 2001. The organisation held its first meeting from April 12-13, 2002. It has its fixed address in Bo'ao, Hainan, China, although the Secretariat is based in Beijing.
The Boao Forum For Asia Annual Conference 2008 was held on April 10-13 2008. It was attended by heads of government from countries including Australia, Pakistan, Norway and Kazakhstan. It also saw the historic meeting of Taiwan's Republic of China Vice President-elect Vincent Siew, with People's Republic of China president Hu Jintao.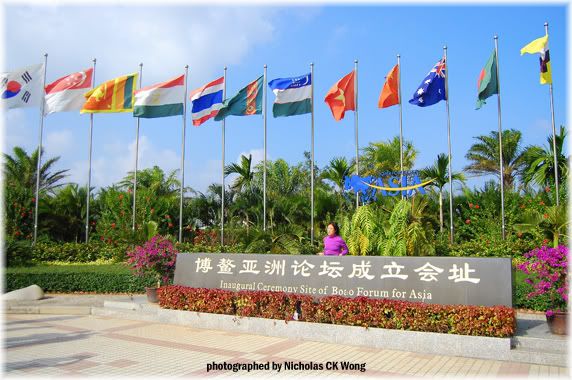 The various national flags of different countries at the Forum.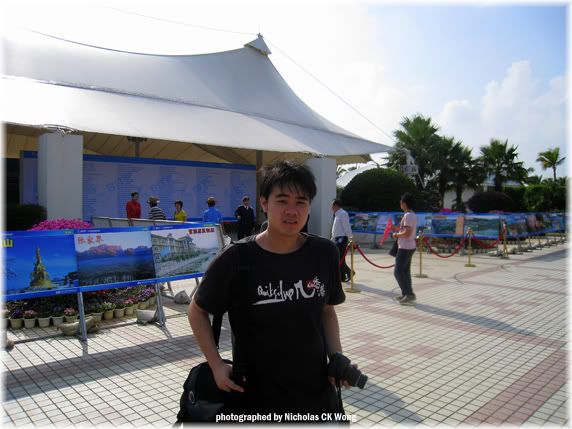 Hello, thats me infront of the main area! =D

Dad and Brandon, infront of the 鳌 (áo), a dragon in a turtle shell.
Well it has a myth to it, but it was quite long. Lewis spent almost 20minutes telling us about it haha.
Apparently some dragon's daughter had a one night stand with a turtle during a day where the dragon palace held a party. Everyone was drunk, yada yada. Months later, this 鳌 (áo) was borned. XD Rather amusing I know.
We were off to a coffee making factory after this!
The thing about China is, everything can be turned into a tourism spot. Seriously, there were other tour buses as well! Here we saw the history of coffee and the process of making the coffee of course.
There were also so many types of coffee I have never heard of in Malaysia. They were offering free samples of a normal brewed coffee, cocoa coffee, coconut milk coffee! Haha, and you know what, they all tasted great! So time to splash some cash! XD
You want try, you come my house, I let you try okay? XD While stock lasts!
We were then taken to this chinese herbs centre called 包树堂 (bao shu tang). A brief demonstration was made of a cream they had that had immediate effects on burn wounds, etc. Didn't take any pictures here as there wasn't anything worth taking haha.
Our tired faces were becoming more visible. Just as we were about to cry fatigue, we finally arrived at our hotel to check in and have dinner.

Treasure Island Hotel, 金银岛大酒店 (JinYinDao DaJiuDian).
We were told to get ourselves ready by 7 the next morning, and there would be a morning call by 6! Great! It was 9pm by then, and after my family and I were done showering, we didn't feel like sleeping yet, so we went out looking for supper! XD
There were this shoplot area just nearby, and there were BBQ stuffs selling. It has some really awesome food! and really cheap too. Since Hainan Island is famous for its coconuts, we ordered two coconut drink, the coconut is at least half time bigger than those u find in any Malaysian kopitiams, which only cost us RMB3 (RM1.50) per coconut.
There were also this super big olysters, of course BBQ-ing them don't have any further charge, only cost RMB1 (RM0.50) per olyster!! Of course there were also BBQ chicken wings, fried noodles, etc. We could barely move after all that food! XD
We finally decided to crash back to our bedrooms at 11pm, thus marking the end of the 1st day of our Hainan Island trip.
P/S – Dang, everything is in chinese! Even the air-condition remote control!
Last 5 posts by Nicholas
Popularity: 1% [?]
Trackbacks
Leave a Trackback